El Trompillo Airport, Santa Cruz, Bolivia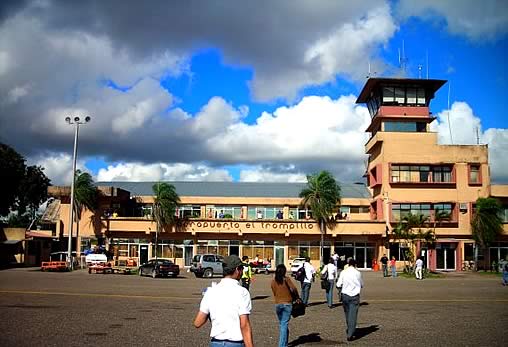 Capitan Horacio Vasquez Airport, also known as El Trompillo is a small airport situated at Latitude 17° 48' 0" , Longitude 63° 10' 0", to the southwest of Santa Cruz de la Sierra and about 2 kilometers away from 24 de Septiembre main square.
This local airport only handles regional flights. For its first 65 years, it was the only airport in the city. In 1985 Viru Viru International Airport was inaugurated.
Official name: Captain Horacio Vasquez
IATA Code: SCZ
Opened in: 1920
Number of terminals: 1
El Trompillo Airport has a landing strip of about 3.200 meters, surrounded by hangars of the Bolivian Air force, small airlines, and an aviation school.
El Trompillo Airport works with regional airlines such us Alas de Sur, Aerocon (headquarters), Amaszonas and TAM Militar. Most of the commercial flights arrive between 10:00 and 17:00. The airport does not operate at night.
Transportation
Express buses and taxis communicate the airport with Santa Cruz de la Sierra city and the metropolitan area. The bus and taxi stops are located close to the terminal in the exterior areas. More information about Hotel – El Trompillo Airport - Hotel transfer services in Santa Cruz de la Sierra city.
Parking area
El Trompillo Airport has an ample parking area in front of the main entrance. It is free for short stays and has permanent security.
Hotels
Trompillo Airport has no hotel inside its area. If you require lodging please make a reservation in advance. More information about Hotels in Santa Cruz de la Sierra.
To get more information about flights in Bolivia, click here.