Travel Articles
All you need to know about the Salar de Uyuni
The Uyuni Salt Flats (Salar de Uyuni) in Bolivia is one of the most spectacular destinations in South America. We prepared this article to allow you to enjoy this truly unique attraction in the best way possible!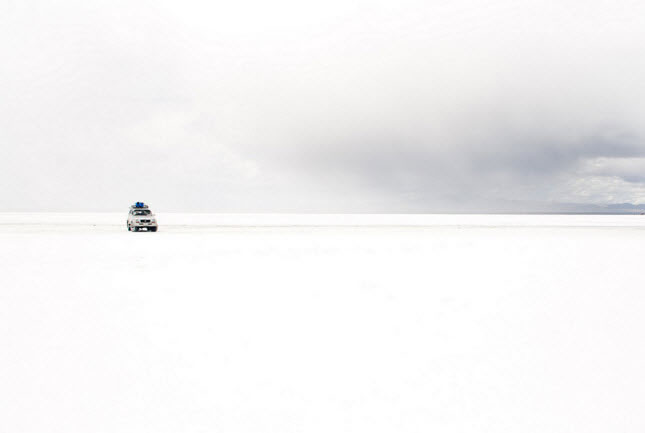 How much time is needed to visit the Uyuni Salt flats?
Before answering this question, we need to understand that the Uyuni Salt Flat is the largest salt desert in the world. The city of Uyuni in Bolivia is right on the border of this natural wonder, and from there you can visit it in just one day.
Having said that, an Uyuni Tour generally means a trip of 3 or 4 days, as besides this giant white extension the tour also includes numerous other attractions such as spectacular coloured lagoons, rock formations and a desert surrounding filled with native wildlife.
Where can I start the Uyuni Tour from?
1. From Uyuni (Bolivia). Tours can start at the town of Uyuni. In this case, you will need to travel there first on your own.
2. From La Paz (Bolivia). You can also book a tour leaving from La Paz. We will include transportation to Uyuni via bus, private transfer or airplane.
3. From San Pedro de Atacama or Calama (Chile). When starting your tour from Chile, we will first transport you to the Bolivian border, where you will need to change vehicles as chilean tour operators are not allowed to enter Bolivia and vice versa. We will make sure there is a driver and a 4x4 vehicle waiting for you there.
Can I end the tour at a different destination where I started from?
Yes. You may decide to cross into Chile after your tour or return to Uyuni town, from where you may travel to other destinations in Bolivia.
Is it compulsory to book a tour? Can I visit the salt flats on my own?
Only licensed tour guides/drivers are allowed to enter the salt flats. The Uyuni Salt Flat is 10500 square kms large and there are almost no visual indicators, so it is very easy to get lost. In the rainy season unexperienced drivers would get stuck in the molten salt. You always need to travel in a 4x4 vehicle.
What are my chances of getting altitude sickness in Uyuni?
The salt flats are located at over 3600 meters above sea level. At some points during the 3 or 4 day tour you will reach altitudes of nearly 5000 meters. It is recommendable to try to acclimatize yourself before the tour by spending a few days at a high altitude place in order to allow your body to get used to the reduced oxigen levels.
When is the best time to visit the Uyuni Salt Flats? What is the weather like?
It depends. Between May and November (dry, cold season) there is almost no rain. The salt flats look like a huge white sea, where you loose perspective and you can use the optical effects to take fun pictures. During this season the temprature varies between 16 °C and -4 °C. July is the coldest month.
Between December and April is the warm and rainy season. This is not necessarily bad. You may have seen photos of the salt flats turned into a giangantic mirror. This effect is almost exclusive to this period, though with some luck and a good tour guide you may find some places where water accumulates in the salt flats even during the dry season. During this season the temprature varies between 17 °C and 3 °C.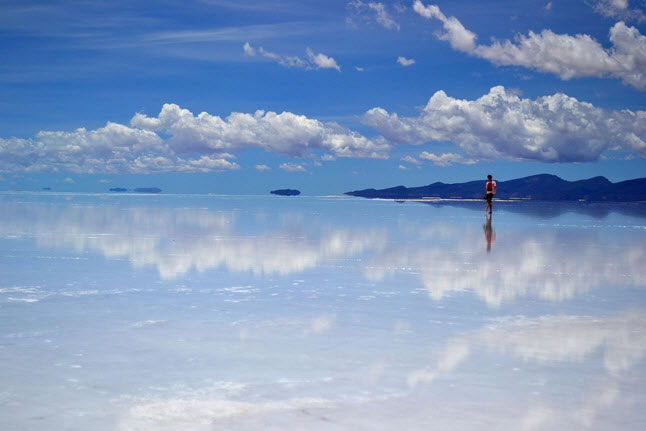 What happens if it is raining?
If it rains a lot, the water accumulates, the sal melts and access to the salt flats may become restricted. You may not be able to visit Incahuasi Island (Isla Incahuasi) or Fish Island (Isla del Pescado) located in the middle of the Uyuni Salt Flats. In this case, tours will only enter the salt flats up to a safe distance.
Do I need a tourist visa to enter Bolivia?
Depends on your nationality. Visitors from Group 1 (most of western Europe, America and some Asian countries) do not require a visa to enter Bolivia. Tourists from Group 2 and Group 3 need to get a 100 USD visa, and bring 2 ID size photos. Visitors from the United States and Puerto Rico must pay 160 USD and bring 2 ID size photos.
Do I need to get vaccinated?
To visit the Uyuni Salt Flats, you do not need any vaccination. If you would like to continue your trip to the Amazon area, you must get vaccinated against yellow fever in advance.
How much is the entrance fee?
Operators do not include entrance fees, these you will have to pay separately, in bolivian currency (US dollars are not accepted). These attractions (except Incahuasi Island) are visited during the 3 or 4 day tours. See the list of entarnce fees below:
Entrance fee to the Eduardo Avaroa reserve (Reserva Nacional de Fauna Andina Eduardo Avaroa) (Bs.150.- per person).
Entrance fee to the Polques hot springs (Termas de Polques) (Bs. 6.- per person).
Entrance fee to Incahuasi Island (Isla Incahuasi) (Bs. 30.- per person).
Fee for using bathrooms during the trip: about. Bs. 6.- each time. In the shelters using the bathrooms is usually free.
Where can I sleep?
There are diverse options for accomodation, but shared tours only include basic shelters. Shelters are rather austere and you are adivised to carry a warm sleeping bag with you. You will need to share the room with other travellers. For a private tour, you may book more comfortable hotels.
What should I see?
Among the many attractions of full tour of the Uyuni region (3-4 days) are:
Uyuni Salt Flats (Salar de Uyuni).
Incahuasi Island (Isla Incahuasi).
Train Cemetery (Cementerio de Trenes).
Siloli desert and the Stone Tree (Desierto Siloli, Árbol de Piedra).
Red Lagoon (Laguna Colorada).
Polques hot springs (Termas de Polques) - bring a bathing suit!
Sol de Mañana Geysers.
What do I need to bring along for a tour of the Uyuni Salt Flats?
Warm and comfortable clothes.
Trekking shoes.
Bathing suit and towel (for the Polques hot springs).
Sunglasses.
Sunblock.
Sleeping bag (for shared tours). You may also rent one from the tour operator
Water.
Passport.
Recent reviews of this article
Rating:
No recent reviews
Add a review: