Travel Articles
Caporales - Oruro Carnival Dance
The Caporales is a typical Bolivian dance legacy of the Spanish. The dance is very popular especially in the carnivals and festivities such as the Oruro Carnival.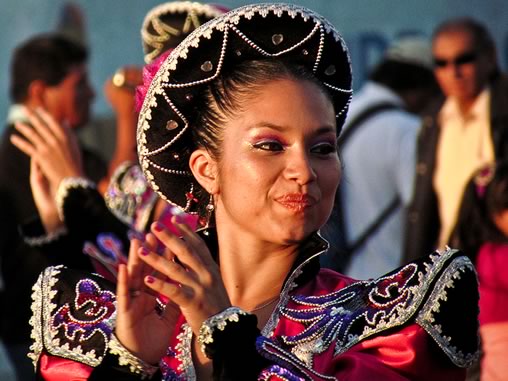 A male caporal dress would depict an old Spanish military guard. Wearing heeled boots bearing large bells known as "cascabeles", a male dancer carries a hat in his left hand and a whip in his right. A female caporal dress consists of a minidress with matching panties, skin-color pantyhose, fancy shoes, and a round top hat pinned to her hair. Lots of colorful sequins are used in the caporal costumes.
Men and women usually dance separately in a progressive march style dance. An interminable line of color and shine light up the streets, accompanied by the energy and smiles of the dancers.
The Caporales is most popular among young men and women in their twenties and early thirties because of its physical demand.
The Caporales music is contagious and rhythmic: the people who watch the spectacle join the dance celebration with special claps and shoulder movements.