Alojamiento Mutual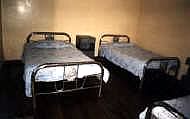 Hotel Description
Alojamiento Mutual offers to guests affordable accommodation.

Hotel Location
Alojamiento Mutual is located in the city centre of Oruro, close to the main square and one block away from the Cathedral.
Find Alojamiento Mual at Sucre St. No 641 between Soria Galvarro St. and La Plata St.
Hotel Map
Hotel Rates
Please drop us an e-mail for updates on the rates.
Room Facilities
Mutual Lodging offers to its guests single and family rooms.

Hotel Services
24 hours Front desk
Security
Additional Services
Hotel Policies